Research overview

Tumor cells are characterized by complex molecular changes that lead to aberrant survival, growth and motility. Our team investigates the interplay of tumor suppressive and oncogenic signaling networks in cellular transformation. A particular focus is on the signaling pathways that contribute to cancer cell metastasis. Using 3D tissue culture models, we study the molecular interactions with the tumor cell environment, aiming to identify new therapeutic points of intervention. We further employ advanced genetic engineering approaches, primary (co)culture models in combination with single cell and state-of-the-art imaging techniques.
Selected Current Projects
Our Partners
We work in close collaboration with Prof. Matthias Schwab (Margarete Fischer Bosch Institute of Clinical Pharmacology, Stuttgart), Prof. Walter Aulitzky (Robert Bosch Hospital, Stuttgart), Prof. Christine Sers (Charité, Berlin), Prof. Tilman Brummer and Prof. Melanie Boerries (University of Freiburg), Prof. Hauke Busch (University of Luebeck), and Prof. Boris Macek (Proteome Center Tübingen).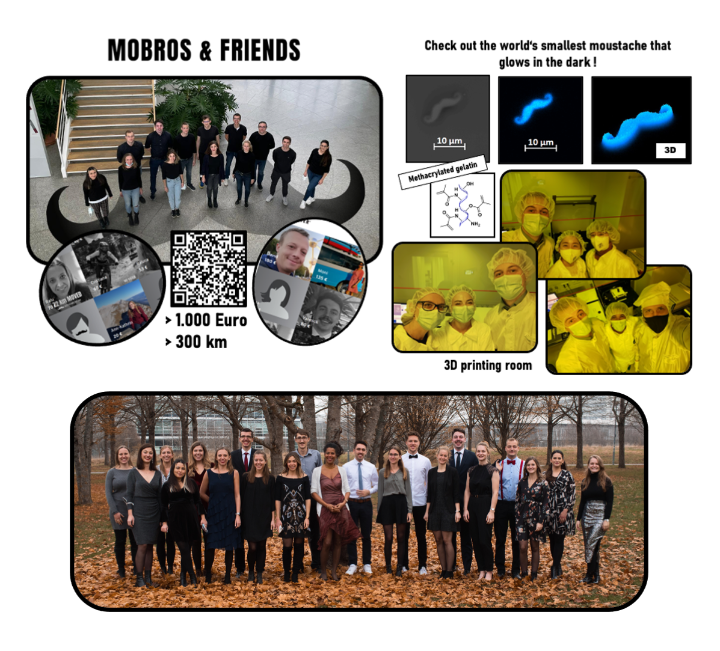 Members of the Monilola Olayioye group, or MoLab in short, shared their interest in cancer research beyond the lab, by gathering forces with friends and colleagues from the Institute of Cell Biology and Immunology (IZI) and The Institute of Biomaterials and Biomolecular Systems (IBBS) to join Movember 2021. The MoBros & Friends strong and determined team set out to promote the mission of improving men's health worldwide, which includes research on prostate cancer, through fun and healthy activities. Moustaches were grown, more than 300 km walked, healthy snacks were baked, and last but not least, the world's smallest "glow-in-the-dark" moustache was printed thanks to our friends and 3R-US collaborators at IBBS, especially PhD student Kai Hirzel in the group of Michael Heymann. All team progress was monitored and shared with the world, and as a result, more than 1000€ was raised for the cause. Congratulations to the team, and we hope to top the success next year!
How to join our Group
Undergraduate students interested in conducting a BSc/MSc research project should get in touch at an early stage with their CV as space is limited. PhD and postdoctoral positions are advertised on our career portal JoinUS. We are happy to support highly qualified and competitive candidates that wish to apply for fellowship funding programs to join our research team.
Figures were generated with Biorender.com