How kinases control membrane trafficking
We investigate how membranes of the secretory pathway are regulated by signal transduction pathways. Here, we are particularly interested in the role of the protein kinase D family. Specifically, we address how external cues control PKD activity and how the kinase engages its interactors and substrates to coordinate the secretory pathway.
Ultimately, we aim at determining the relevance of PKD in cell growth, polarity, migration and invasion, and stem cell maintenance to understand the impact of dys-regulation of PKD signaling and secretion in human diseases such as cancer and neurodegeneration.


Cell line engineering for improved production of therapeutic proteins
Chinese hamster ovary (CHO) cells are the most commonly used host for biopharmaceutical production. Although transcription and translation strategies have been employed to generate highly productive cell clones, secretion still remains a bottleneck for cellular productivity. By targeting the secretory pathway at multiple levels using synthetic biology tools, we aim to generate highly productive cell lines with predictable performance at an industrially relevant scale.


Technology platform
We employ an interdisciplinary approach combining 2D and 3D cell culture including primary cells from mice and humans, biochemistry, advanced microscopic techniques e.g. TIRF, FRET, and FRAP, image-based high-throughput screening, and in vivo mouse models.


Funded H2020 (MSCA 2019) project: SECRET - A MARIE SKŁODOWSKA-CURIE ACTIONS (MSCA) Innovative Training Network (ITN)
We will be exploring the SECRETory pathway regulation and its contribution to cancer by providing a highly qualified platform for European research training of bright young scientists, with the aim of defining secretory pathway-linked candidate biomarker genes suitable for cancer diagnosis and prognosis.
For details, check out the SECRET-ITN website: https://secret-itn.eu/
News
Our joint research paper with Katalin Schlett' s group has been accepted for publication in Traffic. In this paper, we show that PKD promotes basal and activity-dependent AMPAR endocytosis in primary hippocampal cultures and thus plays an important role in postsynaptic AMPAR transport during synaptic plasticity. Congratulations to Carlos on the occasion of his first first-author paper!


We have an open PhD Student position to work on the role of RIN1 in synaptic plasticity! Exciting collaboration with Ingrid Ehrlich (Department of Neurobiology) and Katalin Schlett (Department of Physiology and Neurobiology, Eötvös Lorand University, Budapest). Deadline is November 30 - apply now!
Recent publications
Protein Kinase D promotes activity-dependent AMPA receptor endocytosis in hippocampal neurons. Oueslati Morales CO, Ignácz A, Bencsik N, Sziber Z, Rátkai AE, Lieb WS, Eisler SA, Szűcs A, Schlett K, Hausser A. Traffic. 2021 Sep 26. doi: 10.1111/tra.12819. Online ahead of print.


Nucleobindin-1 regulates ECM degradation by promoting intra-Golgi trafficking of MMPs. Pacheco-Fernandez N, Pakdel M, Blank B, Sanchez-Gonzalez I, Weber K, Tran ML, Hecht TK, Gautsch R, Beck G, Perez F, Hausser A, Linder S, von Blume J. J Cell Biol. 2020 Aug 3;219(8):e201907058. doi: 10.1083/jcb.201907058. PMID: 32479594


Deletion of Protein Kinase D3 Promotes Liver Fibrosis in Mice. Zhang S, Liu H, Yin M, Pei X, Hausser A, Ishikawa E, Yamasaki S, Jin ZG. Hepatology. 2020 Nov;72(5):1717-1734. doi: 10.1002/hep.31176. PMID: 32048304


Cancer Cells Employ Nuclear Caspase-8 to Overcome the p53-Dependent G2/M Checkpoint through Cleavage of USP28. Müller I, Strozyk E, Schindler S, Beissert S, Oo HZ, Sauter T, Lucarelli P, Raeth S, Hausser A, Al Nakouzi N, Fazli L, Gleave ME, Liu H, Simon HU, Walczak H, Green DR, Bartek J, Daugaard M, Kulms D. Mol Cell. 2020 Mar 5;77(5):970-984.e7. doi: 10.1016/j.molcel.2019.12.023. PMID: 31982308
Click here for a full publication list.


Our lab on ResearchGate
Follow us on twitter
Lab members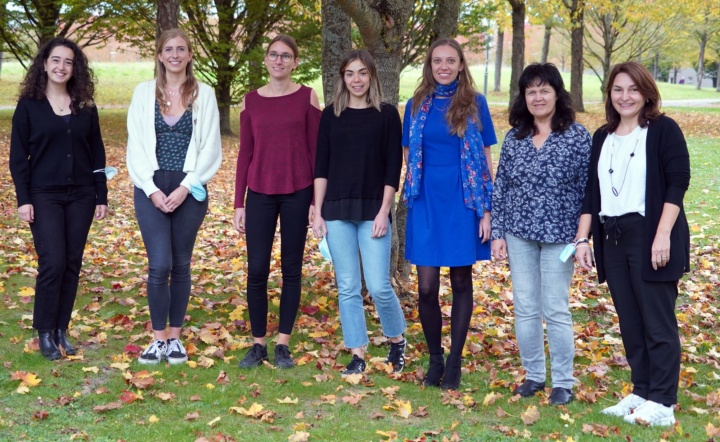 Open positions
Applications of students and scientists interested in signal transduction and membrane trafficking, and joining our team are always welcome! Please send your CV and a short summary of your research interests to Angelika Haußer.


Funding