Research Overview
We are interested in the complex biology of the cytokine tumor necrosis factor (TNF) and in unraveling the physiological and pathological responses induced via its receptors, TNFR1 and TNFR2. In particular, we aim to develop novel therapeutic strategies to selectively modulate the activities mediated by TNFR1 and TNFR2.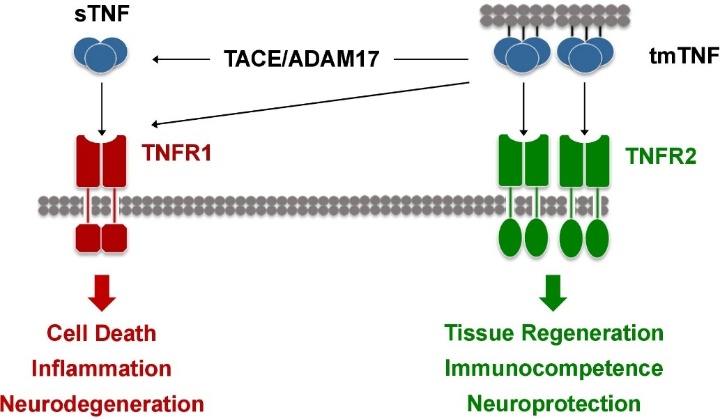 Background
TNF is a pleiotropic cytokine and a key regulator of immunity and tissue regeneration. TNF is synthesized as a homotrimeric type II transmembrane protein (tmTNF) that can be proteolytically cleaved into soluble circulating homotrimers (sTNF). TNF can activate two type I transmembrane receptors, TNFR1 and TNFR2. Whereas both sTNF and tmTNF are capable of activating TNFR1, TNFR2 can only be robustly activated by tmTNF. Interestingly, the two TNF receptors induce opposing biological responses. TNFR1, a death domain containing receptor, promotes inflammation and tissue degeneration, while TNFR2 contributes to immune modulation, and tissue homeostasis and regeneration.
Novel TNFR-targeting therapies
Due to its prominent pro-inflammatory role, therapeutics have been developed that bind and neutralize TNF (anti-TNF therapeutics). Despite their clinical success, these therapeutics induce severe side-effects due to non-specific inhibition of the immune system, and are not suitable to treat neurological diseases.
We hypothesize that the limitations of anti-TNF therapeutics are due to non-specific inhibition of both TNF forms and therefore of both TNF receptors. In contrast, TNF receptor-specific intervention might prove superior to conventional anti-TNF therapeutics. We, therefore, have developed together with the groups of Prof. Roland Kontermann and Prof. Klaus Pfizenmaier reagents that selectively interfere with TNF receptor signaling. Next to antagonistic TNFR1-specific antibodies and derivatives thereof, we focus on the development of TNFR2-selective agonistic molecules based on multivalent single-chain TNF trimers that specifically bind to TNFR2 and mimic the biological activities of tmTNF. In preclinical studies, we have demonstrated the therapeutic efficacy of these TNFR2 agonists in rodent models of neurodegenerative diseases, experimental arthritis (CIA), experimental autoimmune encephalomyelitis (EAE) and the chronic constriction injury (CCI) model of chronic neuropathic pain. In our ongoing studies, we are interested to validate the therapeutic potential of TNFR2 agonists in models of inflammatory and degenerative diseases and to elucidate the molecular mechanisms of TNFR2-mediated tissue regeneration.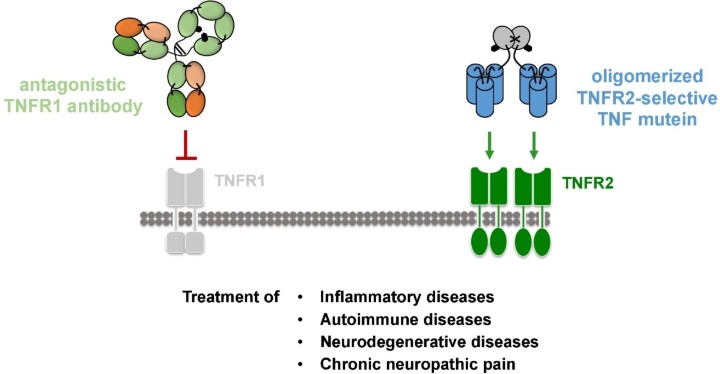 Our Partners
We further work in close collaboration with Prof. John R. Bethea (Drexel University, Philadelphia), Prof. Ulrich L. Eisel (University of Groningen, Groningen), and Prof. Ricarda Diem (University of Heidelberg)
Open positions
Students interested in a BSc/MSc research project in the area of biomedical engineering and neuroimmunology are welcome to apply. PhD and postdoctoral positions are advertised on the institute website and we are happy to support qualified candidates that wish to apply for fellowship funding programs to join our research team.
Selected publications
Fischer R, Kontermann, RE, Pfizenmaier K (2020) Selective targeting of TNF receptors as a novel therapeutic approach, Front Cell Dev Biol
Wandrer F, Liebig S, Marhenke S, Vogel A, Manns MP, Teufel A, Itzel T, Longerich T, Maier O, Fischer R, Kontermann RE, Pfizenmaier K, Schulze-Osthoff K, Bantel H (2020) TNF-Receptor-1 Inhibition Reduces Liver Steatosis, Hepatocellular Injury and Fibrosis in NAFLD Mice, Cell Death Dis
Mironets E, Fischer R, Bracchi-Ricard V, Saltos TM, Truglio T, O'Reilly ML, Swanson KA, Bethea JR, Tom VJ (2019) Attenuating neurogenic sympathetic hyperreflexia robustly improves antibacterial immunity after chronic spinal cord injury, J Neurosci
Padutsch T, Sendetski M, Huber C, Peters N, Bethea JR, Pfizenmaier K, Kontermann RE, Fischer R (2019) Superior Treg expanding properties of a novel dual-acting cytokine fusion protein, Front Pharmacol
Fischer R, Sendetski M, del Rivero T, Martinez GF, Bracchi-Ricard V, Pruzinsky EK, Rosalino MJ, Padutsch T, Kontermann RE, Pfizenmaier K, Bethea JR (2019) Tumor necrosis factor receptor 2 is essential for neuropathic pain recovery, Proc Natl Acad Sci U S A
Abdus-Saboor I, Fried N, Lay M, Burdge J, Swanson K, Fischer R, Jones J, Dong P, Cai W, Guo X, Tao Y, Bethea JR, Ma M, Dong X, Ding L, Luo W (2019) Development of a Mouse Pain Scale Using Sub-second Behavioral Mapping and Statistical Modeling, Cell Rep
Fischer R, Padutsch T, Bracchi-Ricard V, Murphy KL, Martinez GF, Delguercio N, Elmer N, Sendetski M, Diem R, Eisel ULM, Smeyne, RJ, Kontermann RE, Pfizenmaier K and Bethea JR (2019) Exogenous activation of tumor necrosis factor receptor 2 is therapeutic for sensory and motor disease in a model of multiple sclerosis, Brain Behav Immun
del Rivero T, Fischer R, Yang F, Swanson K, Bethea JR (2019) Tumor necrosis factor receptor 1 inhibition is therapeutic for neuropathic pain in males but not females, PAIN
Fischer R, Proske M, Duffey M, Stangl H, Martinez GF, Peters N, Kraske A, Straub RH, Bethea JR, Kontermann RE, Pfizenmaier K (2018) Selective activation of tumor necrosis factor receptor 2 induces anti-inflammatory responses and alleviates experimental arthritis, Arthritis Rheumatol
Fischer R, Marsal J, Guttà C, Eisler SA, Peters N, Bethea JR, Pfizenmaier K, Kontermann, RE (2017) Novel strategies to mimic transmembrane tumor necrosis factor-dependent activation of tumor necrosis factor receptor 2, Sci Rep
Dong Y, Fischer R, Naudé PJ, Maier O, Nyakas C, Duffey M, Van der Zee EA, Dekens D, Douwenga W, Herrmann A, Guenzi E, Kontermann RE, Pfizenmaier K, Eisel UL (2016) Essential protective role of tumor necrosis factor receptor 2 in neurodegeneration, Proc Natl Acad Sci U S A